Danielle Stratta Claroni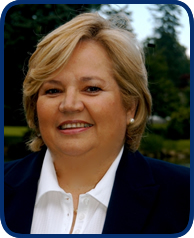 Founder and President of ReloSport, Inc., is a Sports Relocation Expert, as well as a specialist in Luxury Homes, Land and New Construction. She is a highly accomplished Realtor/Broker licensed in New York and Connecticut. Danielle grew up all over the world.Her father was a professional soccer player in Italy and later on in the elite international hotel business where he entertained many celebrities over her years growing up.Danielle's mother was a professional model and worked with all the top names in the fashion industry. Danielle and her husband Michael have met all the communications and sound needs of professional athletes and other celebrities for the last 30 years.She has also been assisting athletes with the special needs they encounter when they first move to a new area for the last 15 years.
Danielle has been a licensed Real Estate Professional since 1997. She has won numerous awards for outstanding sales achievements and was awarded the Women's Council of Realtor's 2006 Member of the Year for CT.She has also been nominated for Realtor of the Year for the National Association of Realtors. The Connecticut Association of Realtors recently recognized Mrs. Claroni for her generous donations of time and money to the youth of the community by awarding her the Good Neighbor Award.She has served as a volunteer and a generous benefactor to the Boys and Girls Club of Greenwich, where she was awarded the Jackie Joyner Kersee Award for her dedication to helping local children.Danielle also volunteers at the Yerwood Center in Stamford, where she helps mentor urban youth from underprivileged families through her non-profit organization, the Make a Future Foundation.
Her Make a Future Foundation supports the academic and athletic endeavors of young men in middle and high school who hope to attend college through academic and athletic scholarships.She is a licensed broker in both New York and Connecticut and has served as President of her local Women's Council of Realtor's chapter.Danielle is a member of the Connecticut Association of Realtors, New York Association of Realtors, National Association of Realtors and Women's Council of Realtors.Danielle is presently serving as Chairman of the Greenwich Multiple Listing Service's MLS Committee.She resides in Greenwich, CT with her husband Michael, and three sons, Tim, David and Daniel.
Favorite Quote:
"Don't let anyone want something more for you than you do for yourself" -Andrew Francis, Asst Basketball Coach, University of Iowa